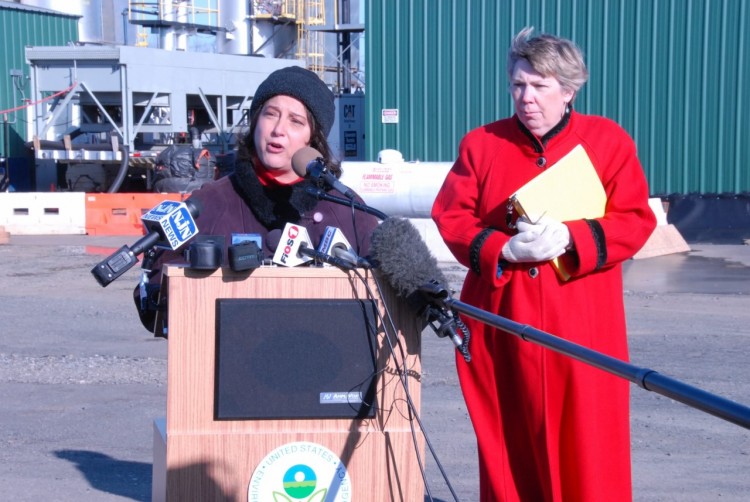 The New Jersey League of Conservation Voters Education Fund is pleased to announce the addition of a former federal environmental protection official to its Green in '17 team.
 
Lisa J. Plevin, former chief of staff for Region 2 of the US Environmental Protection Agency, will lead the environmental group's transition planning initiative to help New Jersey's next gubernatorial administration identify short- and long-term environmental priorities to re-establish New Jersey as an environmental leader.
 
"We couldn't be more pleased to have someone with Lisa's breath of experience in environmental policy leadership join our team," said Ed Potosnak, executive director of the Conservation Voters Education Fund. "Her presence amplifies our Green in '17 program, which is eager to build on its successful primary season."
 
Green in '17 is an education campaign whose goal is to elevate discussion of key environmental issues in the gubernatorial election. One measure of the program's success came on May 9, when 40% of the questions asked of Democratic candidates participating in the first gubernatorial debate were about environmental issues such as climate change and off-shore drilling, as were 20% of the questions asked of the Republican candidates.
 
After a widely-covered launch with former Govs. James Florio and Christine Whitman in January, Green in '17 produced a 78-page environmental policy guide that serves as a primer on the most pressing water, air and land issues facing New Jersey. The guide, which comes with policy recommendations on how to best address New Jersey's needs, was distributed to 5,000 elected officials and candidates at all levels of government.
 
Plevin's role is to build on those successes and help a new administration, whether Democratic or Republican, prioritize environmental issues during the first 100 days and the first year of the new term.
 
Plevin is well-suited to the task. Before joining the EPA, she worked for 16 years with U.S. Sen. Frank Lautenberg, who championed many critically important environmental laws, which Plevin had a hand in helping shape. Earlier in her career, Plevin played a pivotal role in passage of New Jersey's landmark Clean Water Enforcement Act, the first state law to attach criminal penalties to water pollution violations.
 
At EPA, she helped oversee a 900-person office working on environmental projects impacting New Jersey, New York, Puerto Rico and the U.S. Virgin Islands. 
 
"I'm very excited to be contributing to this important effort," Plevin said. "There are tremendous opportunities in New Jersey to advance a strong environmental agenda and we want to help the next governor become a national environmental leader."
 
Plevin lives in Parsippany and is a graduate of Richard Stockton College with a B.S. degree in Environmental Science.