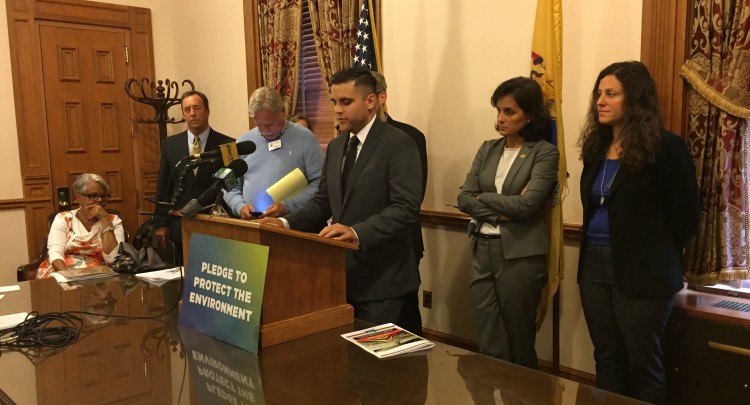 TRENTON – With a deadline for Congress to approve a federal budget approaching by the end of next month, public officials, environmentalists, public health advocates and business organizations joined the call for full funding of EPA to protect the Delaware River watershed around the release of a new report detailing the success of the EPA and the impacts of the Trump Administration's full-frontal budget cuts on EPA's mission. The effort was part of a broader effort by the New Jersey environmental community to rally public support to support the mission of the EPA in the face of funding and regulatory rollbacks.
Slashing EPA's clean water programs makes no sense for New Jersey. The job of cleaning up and protecting the Delaware River watershed is not done. Continuing pollution from sewer systems, industrial facilities and runoff – along with the emergence of new pollution threats from industrial and household chemicals – call for continued vigilance. Only a well-funded EPA can continue our progress in cleaning up the Delaware River watershed – and that's why we need every New Jersey Congressional member to publicly support full funding for the EPA," said Doug O'Malley, director of Environment New Jersey.>
"Rough Waters Ahead: The Impact of the Trump Administration's EPA Budget Cuts on the Delaware River Basin," issued today by Environment New Jersey Research & Policy Center, examined the impacts of the Trump administration's proposed budget cuts to EPA water programs on the Delaware River watershed. More specifically, the report found that the EPA has jurisdiction for more than 1,000 pollution permits in the lower Delaware, the proposed Trump budget would slash enforcement by more than 25%, had to take over the clean-ups for 4 Superfund sites in the watershed and millions of dollars of funding to reduce water pollution is still up in the air.
"President Trump's proposed gutting of EPA threatens to undermine restoration efforts within the Delaware River watershed and puts New Jersey's coastal communities at greater risk of catastrophic storms like Sandy," said U.S. Sen. Cory Booker. "I remain committed to working with all of our partners in opposing these shortsighted policies and continue fighting for a safe and healthy environment for all."
For the Delaware River, there are direct fiscal consequences under the proposed EPA budget. There's the $2.5 million of estimated lost funding for non-point pollution control grants, $1.1 million for water pollution control grants and over $500,000 in lost funding for drinking water protection grants. And clearly, the fate is still unclear for the largest source of state funding from EPA, the Clean Water Act State Revolving Fund has provided New Jersey with more than $54 million in water infrastructure funding in the last fiscal year.
"Trump is working to dismantle the EPA by going after the budget. He is attacking environmental programs by cutting the budget by 31 percent and getting rid of thousands of staff. This is especially hard in New Jersey because our DEP gets half of its money from EPA to work on environmental programs, including capital projects. His cuts will mean that there will not enough personnel to make sure our water is safe to drink, our land is clean, our air is breathable, and New Jersey's 118 Superfund Sites are cleaned-up. "Trump's attack on water regulations is an attack on our health and safety, especially his rollback of the Waters of the United States Rule. He is allowing more pollution to be dumped into our water, which can get into our drinking sources such as the Delaware River. His rollbacks leave us weakened to the effects of climate change such as sea level rise, flooding, and increased storm events," said Jeff Tittel, Director of the New Jersey Sierra Club.
Today's report comes as Congress has roughly one month to approve the federal budget to avoid a government shutdown. While House appropriations bills have rejected some of the most extreme EPA budget cuts, they still represent a cut of more than half a million dollars, and the process begins anew in the U.S. Senate, which returns next week.
"The Kirkwood Cohansey Aquifer, which is the lifeblood for the Pinelands and provides approximately 12% of all base flow to the Delaware River tributaries, is easily susceptible to pollution. The EPA is responsible for the superfund sites within the Pinelands boundary, for overseeing facilities' water pollution discharge permits, and for making sure that NJ DEP is monitoring other contamination sites. The proposed EPA budget cuts are a real threat to the aquifer due to lack of oversight and enforcement of these pollution sources. The drinking water for thousands of people are potentially at risk and what's worse is that many Pinelands residents have their own wells and obtain water directly from the aquifer that isn't regularly tested or monitored. If there is contamination, people may not know for weeks if not months after consumption when they start to develop health issues," said Jaclyn Rhoads, Deputy Director of the New Jersey Pinelands Alliance.
In addition, the report reviewed what EPA programs have meant for the Delaware River in terms of preventing pollution, enforcing the law, restoration, and research to identify emerging threats and discover practical solutions. For example, EPA assumed the lead role in cleaning up 14 Superfund sites in New Jersey, four of which are located in the Delaware River Basin. EPA reached a $5.6 million agreement with Shieldalloy to clean up contaminated soil, sediment, surface water and groundwater in November 2016 at the Newfield site after two decades of inaction by NJDEP. Continued funding for the EPA is critical to ensuring it can enforce cleanup plans and oversee remediation work. The EPA oversight is a reminder why it's always helpful to have a cop on the beat: In a report assessing management of Superfund site cleanups in New Jersey, the EPA Office of Inspector General found that, "as lead agency, New Jersey did not take steps to ensure progress" for remediation of state-led Superfund sites, and recommended that "[EPA] Region 2 should assume lead status from New Jersey for those sites where both agencies agree it would be beneficial."
The proposed cuts to the EPA's clean water programs could have devastating affects on the Delaware River and the people who depend on it for their drinking water supply and livelihoods. The Delaware River Watershed is the source of drinking water for millions of New Jerseyans and generates millions in economic activity each year, which will all be threatened if these cuts go through. Congress cannot allow that to happen," said Drew Tompkins with the NJ League of Conservation Voters.
The Trump Administration has proposed slashing a quarter of the EPA's environmental enforcement activities, severely curtailing EPA's ability to enforce the law and to investigate and address violations that threaten drinking water and aquatic environments in the Delaware River Basin. Though pollution from industrial facilities, wastewater treatment plants and other identified sources has fallen sharply from its peak, if the EPA has less funding for monitoring pollution levels and enforcing limits, unscrupulous actors may choose to violate their permits, believing that state environmental agencies will not take action despite EPA's absence. The EPA will not be able to carry out its critical monitoring and enforcement responsibilities as effectively with a fifth of its enforcement budget slashed.
President Trump's proposed cuts that eliminate or reduce funding to key EPA water quality programs will have devastating impacts to water quality and quality of life in the 4-state Delaware River watershed. Combine these impacts with the Christie Administration's sweeping rollbacks of New Jersey's environmental regulations and the decimation of the Department of Environmental Protection, the impacts will be overwhelming," said Elliott Ruga, Policy Director of the New Jersey Highlands Coalition.
Overall, there are more than 4,000 facilities with permits to discharge pollutants into waters of the Delaware River Basin, any of which have the potential to increase pollution if oversight is scaled back due to budget cuts. Specifically, in the lower Delaware, there are 1,046 facilities that hold pollution permits, nearly the highest in the watershed. Even more rural parts of the watershed have high number of permits – there are 264 alone in the Cohansey/Maurice watershed. Compounding the problem, the Trump administration has shown that even when its EPA does take action against a polluter, it collects smaller civil penalties than did previous administrations, according to an analysis by the Environmental Integrity Project (The first six months of the Trump Administration have seen a 60% drop in civil penalties compared to the Obama/Bush/Clinton years.)
"Any cuts to the EPA, including New Jersey's coastal and Superfund programs, will be met not with threats of bleak political futures for the Garden State's Republican delegation, but with heavy investment in environmentally rounded voter engagement and registration in key districts," says Junior Romero, Food & Water Watch.
"A healthy New Jersey economy depends on clean, safe water. The Garden State's waterways and shore attract the customers that support thousands of businesses and good jobs that help our communities thrive. Businesses that care not only about making a profit, but also about helping to make New Jersey a better place to live and work support fully funding the E.P.A. and the critical work that it does," said Richard Lawton, executive director of the NJ Sustainable Business Council.
"Trump's budgets cuts would devastate New Jersey's environment and economy especially along the Delaware. Anyone who relies on drinking water from the Cinnaminson and Trenton treatment plants, canoes or hikes in the Water Gap, tubing in Frenchtown, fishing for trout on the Flat Brook or for shad in Lambertville, or birds along the Bayshore will be impacted. Our tourism and recreation industries and public health should not be put in such jeopardy," said David Pringle, campaign director for Clean Water Action.
###
How Clean Water in the Delaware River Basin Depends on the EPA
| | |
| --- | --- |
| The Delaware River Basin Is Cleaner Because the EPA: | The EPA Continues to Protect Clean Water by: |
| Reduced PCB pollution in the Delaware River | Implementing and updating PCB limits |
| Funds efforts to cut pollution from abandoned mines along the Schuylkill River | Funding projects to reduce legacy pollution across the basin |
| Reduced pollution from raw sewage in the Delaware River and Chester and Ridley creeks in Pennsylvania | Ensuring compliance with planned infrastructure upgrades to limit releases of raw sewage |
| Spurred action to protect the Delaware River from dioxin in industrial waste near Wilmington | Supervising state permitting programs to regulate discharge by industrial and municipal polluters and correcting violations |
| Is leading cleanup of a Superfund site contaminated with heavy metals to protect groundwater in New Jersey | Leading or overseeing cleanup of 307 Superfund sites in the Delaware River Basin states |
| Funded restoration of streambanks along the Brandywine, White Clay, Red Clay and Christina creeks in Pennsylvania and Delaware | Funding restoration of streams and creeks across the region |
| Funded work by local groups to restore habitat for oysters in the Delaware Estuary | Supporting local partnerships that restore the health of the Delaware River Basin's waterways |
| Supported research to identify plumbing that might foster disease | Supporting research into new pollution control methods |
| Supported education to reduce stormwater pollution | Funding installation of "green infrastructure" in Philadelphia and across the region |
The Trump administration's proposed cuts to the EPA budget put these and other critical functions in danger – threatening the future health of the Delaware River.
Under the Administration's proposal, water-related programs run directly by the EPA would be slashed by 34 percent, hobbling efforts to prevent runoff pollution, monitor water quality, establish pollution limits, protect watersheds and wetlands, and pursue polluters.
In addition, many federal grants from the EPA to state governments for clean water would be slashed by 30 percent or more – making it more difficult for already cash-strapped state agencies to do their jobs and delaying important locally led cleanup efforts. For example, the proposed budget would end grants to state governments and tribal agencies to address pollution from farms, stormwater runoff and other dispersed sources.
Research and development funding would be cut by 47 percent, limiting support for scientists, residents and local communities trying to understand the ever-changing threats facing their waterways. For instance, the EPA's Safe and Sustainable Water Resources research program, which supports science and technology research to protect drinking water, would be cut by more than a third.
End grants that help local governments identify and clean up underground storage tanks that may be leaking oil or other hazardous pollutants into groundwater.
For example, funding for efforts to clean up hazardous waste sites, which have the potential to pollute water, is in jeopardy.
Overall, the EPA budget would be reduced by 31 percent.
Even if Congress makes some of these budget cuts less drastic, the Delaware River Basin will still suffer without full funding of EPA programs.