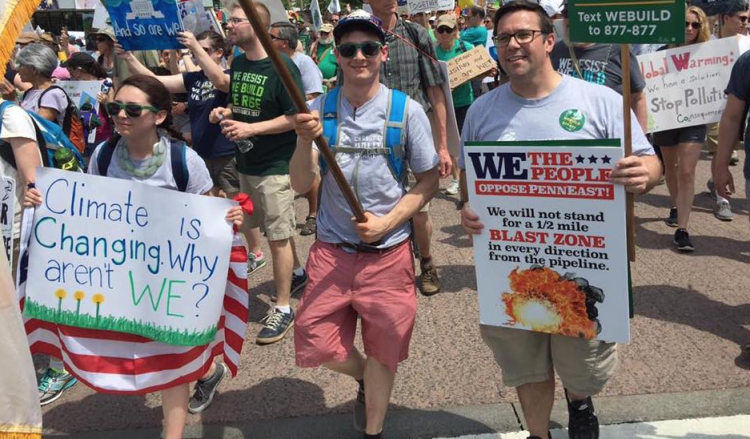 Thousands of people gathered Saturday in the nation's capital to demand action on climate change, and hundreds of them came from New Jersey, and many of them were residents of Franklin Township and surrounding towns. 
"It is vital that we get the message out and we keep it alive, how important it is that we do the right things with regards to the climate to save the environment," Councilwoman Rozalyn Sherman (Ward-2) said, as she was heading out on one of the many buses leaving the state to travel to D.C.
"We're thrilled that we are sending two buses through the New Jersey League of Conservation Voters Education Fund and our Green in 17 campaign which is elevating conservation issues in the garden state," Ed Potosnak executive director of the New Jersey League of Conservation Voters Education Fund said. "Particularly around the governors' race, we are partnering with some folks from Newark to get down there and march. We are really excited, we sold out our buses three weeks ago. There's just been so much overwhelming interest in showing up and standing up for what we believe in. There are buses all across the state, we're not the only ones, there are buses leaving from New Brunswick, folks leaving from Princeton, Berkley Heights, West Orange, and Bayonne, so it's definitely going to be a massive event."
Members of a local environmental organization were also in attendance to express their concerns with climate change. 
"This was definitely a protest march, but there was also an air of celebration and togetherness, a taste of what our society could be like if we worked cooperatively, respect each other and other living creatures and the Earth and took care of the earth as if she was our mother," Franklin Township Steering Committee member, Linda Powell said after the march.  
Local, county, state officials and residents from Franklin Township and surrounding areas have been engaged in an environmental fight of their own, opposing a proposed gas powered compressor station that is slated to be built in Franklin off route 27, near Trap Rock Quarry.